Our Group Class Approach
We believe that a weekly practice should include balanced, sustainable efforts. We have designed our schedule to offer an approach that keeps the body-mind adaptive and curious, helps avoid repetitive strain injury and plateaus and promotes recovery and nervous system balance.
We categorize all of our classes into three groups:
Refine

– practices to learn, revisit and fine tune embodied practice

Move

– vigorous yoga or movement based practice to build strength and mobility

Restore

– meditative, therapeutic and restorative practices to cultivate mindfulness, healing and renewal
To develop a consistent and balanced practice, we highly encourage you to attend at least one class in each category each week.
Most classes on our schedule are suitable for beginners. You'll want to steer clear of classes denoted Level 1-2 or Level 2 if you are new to the practice, returning after some time away or rehabbing from injury.
Yoga Fundamentals
Refine
This class is designed as both an introductory class to new students and an excellent way for experienced students to refine and revisit the fundamentals of the yoga posture practice. Through a slow and steady pace you will discover the power of the breath, develop strength and alignment in the body and cultivate an orientation to the transformative practice of mindfulness. Each week a specific aspect of the practice will be explored more deeply.
All levels class.
Yoga for Life
Refine
A yoga practice for midlife and beyond, although everyone is welcome. This class explores both the physical power and transformative potential of yoga, and encourages practitioners to develop mindfulness, confidence, and compassion through an emphasis on the breath, heart, and body alignment.
All levels class.
Iyengar Yoga
Refine
Internationally respected for a sophisticated understanding of physical movement, the Iyengar approach to Hatha yoga helps practitioners combine strength, flexibility, and endurance through precise attention to the body and the breath. Often in workshop style, the method is therapeutic, orderly, and progressive, and the postures are adaptable to meet individualized needs. The all levels class is a mixed level class to include beginners and seasoned students. The Level 1-2 classes begin to introduce a wider breadth of postures and pranayama (breathing) techniques. The Level 2 classes explore intermediate poses, refine alignment and build stamina. The Level 2 classes are not suitable for beginners.
Mat Pilates
Refine
Deep core and whole body exercises to build strength, improve balance, stability and access greater mobility in the body. A mind-body-breath practice that will leave you feeling grounded, centered and strong. This contemporary approach is appropriate for all levels. A great compliment to your yoga practice!
Movement Lab
Move
Movement Lab classes explore broad themes and concepts of human movement to increase our embodied awareness, and free us from dogmatic or linear styles of practice. These classes challenge our mobility, coordination, balance, strength, skill and adaptability using a wide array of techniques, tools and situations. This may include working with tools like dowels, kettlebells, gymnastics rings, hanging bars, practice balls or even a partner or group exercises to help us grow and learn in community. Movement Lab classes may challenge our comfort zones on a variety of levels but are presented through and all-levels progressive and non-competitive approach. Everyone works at their own pace and everyone is welcome. If you are currently rehabilitating from an injury then you will need to consult with one of the Movement Lab teachers prior to attending this class. Visit our Movement rotation schedule for more info.
Vinyasa Yoga
Move
Flow classes emphasize Sun Salutations and other posture sequences synchronized with breath to build heat and deepen strength and flexibility. This fluid practice cultivates freedom of movement and a deeper connection to the breath. The Level 1 class provides the essential skills to refine your Flow practice intelligently. Level 1-2 is a mixed level class to explore a broader range of postures and creative, fluid sequences. This class. Level 2 is an intermediate level class to explore progressively deeper work in asana, meditation, and pranayama.
Dig & Flow
Move
A contemporary approach to Flow Yoga practice informed by cross-disciplinary research into movement, strength, mobility and mindfulness practices. Experience both the ritual churn of traditional flow yoga with opportunities to pause and refine new ways of overcoming plateaus and avoiding repetitive strain in one's practice.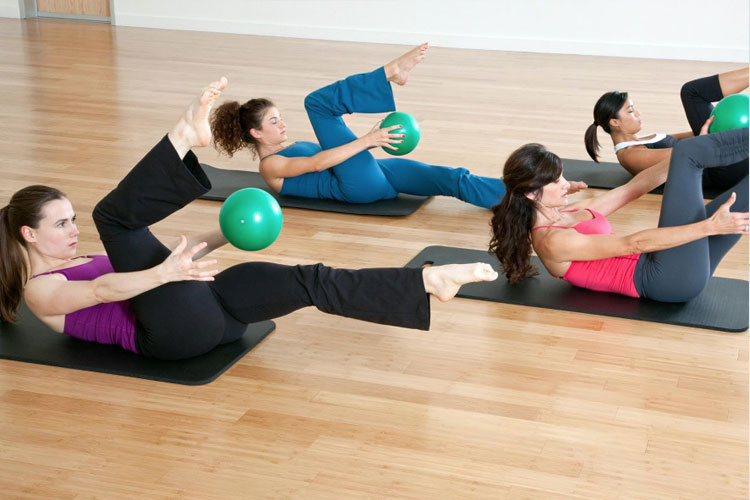 Core Flow
Move
An energizing and challenging, all levels practice combining dynamic yoga and contemporary Pilates. This intelligently sequenced class will build heat, and focus on strengthening the deep core (front, sides and back) to access greater stability, flexibility and mobility in the body.
Yin Yoga
Restore
Yin/Meditation Based on the Chinese model of yoga and energy (chi), Yin yoga postures are approached from a slow, patient and often stationary perspective. The surrender to time and gravity within these longer held postures affects the deep connective tissues (ligaments & fascia) to increase range of motion in and around the joints.
Restorative Yoga
Restore
A class to cultivate deep states of relaxation replenish the body's energy stores and facilitate the release of deep-rooted tensions. A nourishing practice in which the body is supported at rest in specific postures through the use of props including cushions, blankets, blocks and straps.
Yoga Nidra Meditation
Restore
Also known as yogic sleep or sleep with awareness, Yoga Nidra is an ancient practice intended to induce full-body relaxation and a deep meditative state of consciousness. Yoga Nidra is a systematic method of complete relaxation, holistically addressing our physiological, neurological, and subconscious needs. It is typically practiced lying down and cultivates deep state of effortlessness and receptive relaxation.
Mindfulness Meditation
Restore
The Spirit Loft meditation group is an open and inclusive community of individuals welcoming to all who wish to join with us in cultivation of the shared value of living a mindful and compassionate life. We explore the teachings and practices of mindfulness, meditation and the Buddha dharma (teachings for awakening) as a sort of technology to cultivate greater clarity, awareness, intimacy and compassion into our modern urban lives. Join us weekly for highly accessible meditation instruction and group meditation practice followed by a short talk and discussion. No meditation experience is necessary.